Are you planning to travel to Jordan from Chile? Then pay attention to everything we tell you in this post, with specific information if you are going to make your trip from this South American country.
Flights to Jordan from Chile
Unfortunately, at the time of writing this content (March 2023), there were no direct flights to travel to Jordan from Chile, as these are two countries far apart from each other, with a relatively low flow of travelers that is mainly limited to the tourism industry, which reduces the chances of a company deciding to operate a direct route between both destinations.
However, there are several combinations with one or more stopovers. In this post, we focus on the routes that connect the two capitals (Santiago's Arturo Merino Benitez Airport and Amman's Queen Alia International Airport), to which a domestic flight could be added before arriving at the former (for example, from Antofagasta or Punta Arenas) and after arriving at the latter (to Aqaba's King Hussein Airport, the other airport in the country).
Flights with one stopover
If you opt for the seemingly most comfortable solution, that is, a flight with one stopover, the two main routes are as follows:
Santiago-Amman, with a layover in Madrid-Barajas. Approximate duration of 27 hours.
Santiago-Amman, with a layover in London-Heathrow. Approximate duration of 29 hours.
Flights with two stopovers
The other logical solution is flights with two stopovers. While it may seem like an option that significantly lengthens the total travel time, in reality, it does not add too much extra time in many cases. Moreover, there are many possibilities that the final ticket price is more affordable. Here are some of the most common airports for these stopovers:
São Paulo-Guarulhos
Madrid-Barajas
Barcelona-El Prat
London-Heathrow
Hamad-Doha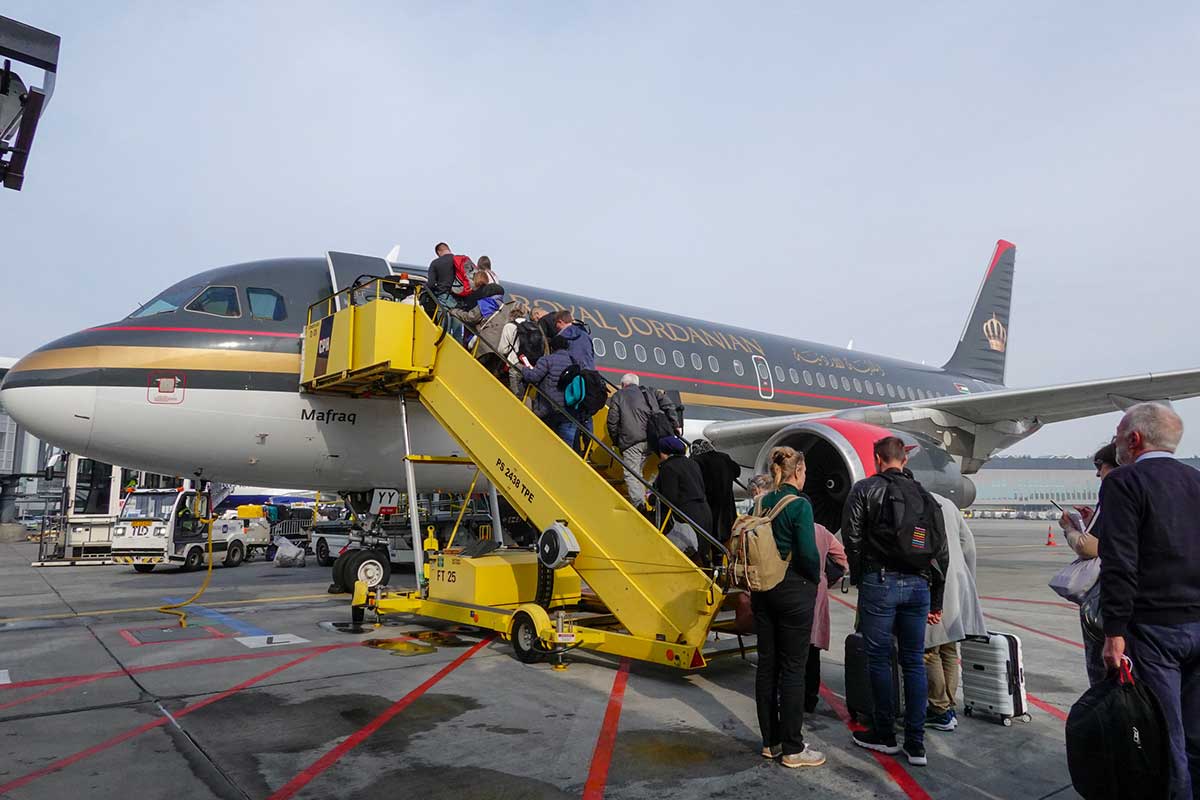 Do you need a visa to travel to Jordan from Chile?
No, nationals of Chile do not need any visa to enter Jordan. That's correct. Jordan has a very open tourism policy, and the vast majority of Latin American citizens, including Chileans, do not need to obtain a special visa to enter the country. That is correct. Only Cuban and Belizean nationals require a visa to enter Jordan. You will only need to pay the corresponding entry fees to the country, which are already included if you purchase the Jordan Pass (a pass that gives you access to the main monuments).
The help of a local agency in Jordan.
As you can imagine, the flight and visa are just the first two details to be addressed when organizing a trip to Jordan from Chile As you can imagine, the flight and the visa are just the first two details to sort out when organizing a trip to Jordan from Chile. However, there are many other details, especially from the moment of setting foot on Jordanian soil
In that case, Jordania Exclusiva is your best ally, as we are an agency specialized in this country We can organize all the services to be enjoyed here, from road transportation to accommodations in each destination, as well as guided tours, local restaurants, and other leisure services. And of course, everything in English
So if you are planning to travel to Jordan from Chile, contact us and start planning an unforgettable experience