If you come to Jordan, a visit to Petra is a must-see. And to fully enjoy the experience, it's important to keep in mind some recommendations. That's why in this post, we give you 5 tips for visiting Petra, which will come in handy.
#1. Streamline transportation with a mode of transport
The Petra site is really large, rocky, and steep at times, so covering it on foot can be tough for those who are not in shape. Therefore, the most comfortable option for getting around is to rent a golf cart for a maximum of 6 people. There's also a more natural and sustainable alternative: horses. And if you want an even more traditional (though slower) experience, you can use a camel service, as Bedouins have used for ages.
#2. Protect yourself from heat…and cold
Petra's desert terrain can be deceiving: its arid and bare character makes the summer heat very harsh, especially in the sun (there is only some shade between the canyons). But it also causes temperatures to be really freezing in winter, especially at dawn and at night. So, a good tip for visiting Petra is to bring sunscreen, a hat, and sunglasses in the warm season, but don't forget thermal clothing in winter and in between seasons.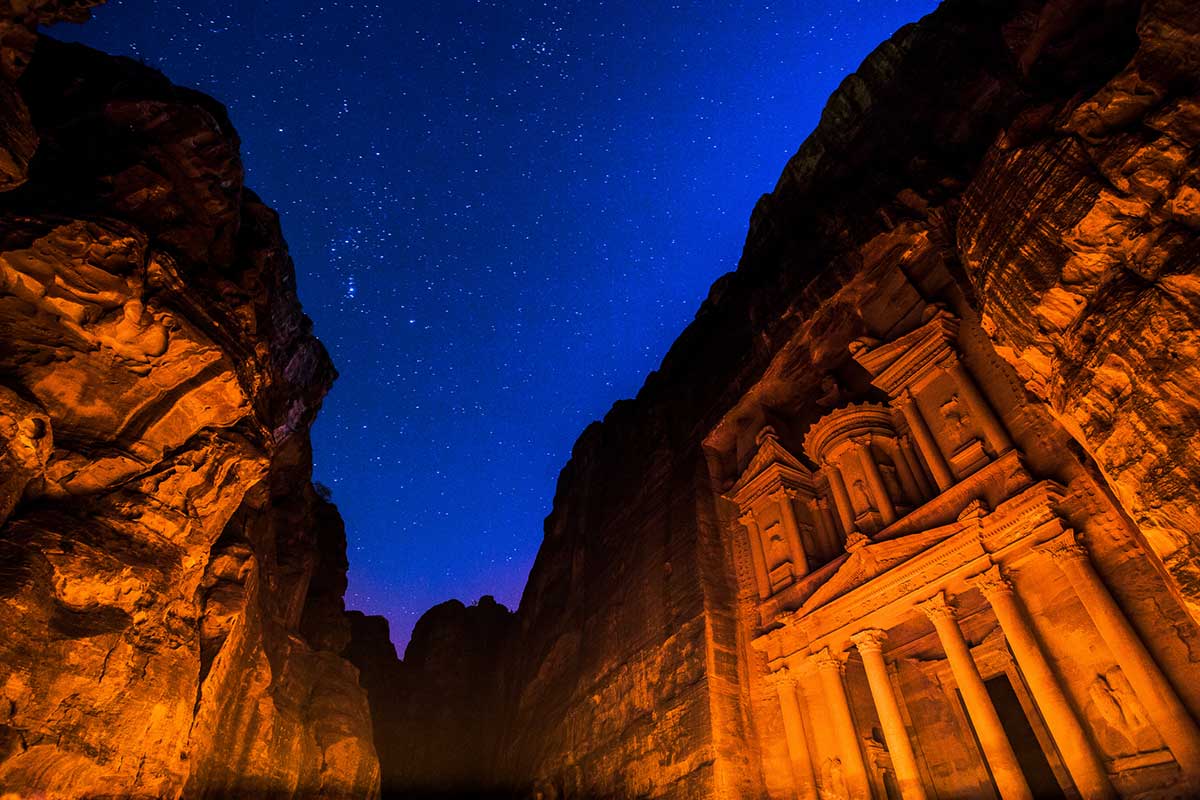 #3. Enjoy Petra at night
It's normal to visit Petra during the day, of course. But it can also be done at night on some days of the week. So this can be a good option if you want to experience this place differently: with colored lights illuminating the most symbolic spaces and with candles lighting up the Siq, which gives it a more intimate character. In addition, there is a sound and light show projected onto the Treasury, with visual effects on its facade, which represents an unforgettable experience for those who witness it. Therefore, it's recommended to check the schedule of the shows and coincide your visit with the show.
#4. Hike up to the Monastery
Another tip for visiting Petra is to reserve some energy for the end and climb the steps that lead to the Monastery al-Deir. The effort is worth it, as this construction is very beautiful, similar to the Treasury, but with fewer crowds precisely because it's somewhat secluded from the rest of the places of interest in Petra. In addition, the views it offers are magnificent thanks to its elevated position.
#5. An agency that gives you tips for visiting Petra… and much more
The last of our tips for visiting Petra is, precisely, to choose an agency that can provide them to you and can also organize the experience with all the details you need, such as horses or golf carts, for example. That's precisely what Jordan Exclusive does: we have trusted and professional providers who will make you enjoy the visit, without the risk of falling into the problem of fake guides, wrong tickets, and other unpleasant surprises that sometimes occur when organizing the trip on your own.